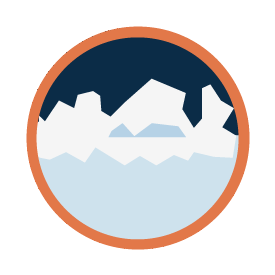 Values correspond to millions of square kilometers of sea ice cover
Description of time series:
This time series shows the sea ice extent for the Alaska-Arctic region from 1979 to 2021. During the last five years, there has been no notable trend and values are within the 10th and 90th percentiles, albeit near the lower end of the time series.
 Description of gauge:
The gauge value of 14 indicates that mean sea ice extent between 2017 and 2021 for sea ice in the Alaska-Arctic region was only higher than 14% of the sea ice extent measurements between 1979 and 2021
Indicator and source information:
Sea ice affects the movement of ocean waters. When sea ice forms, ocean salts are left behind. As the seawater gets saltier, its density increases, and it sinks. Surface water is pulled in to replace the sinking water, which in turn becomes cold and salty and sinks. This initiates deep-ocean currents driving the global ocean conveyor belt. 
The time series shows the Sea Ice extent in September of each year to give a sense of the summertime (i.e., minimum annual) extent through the years of sea ice across the entire Northern Hemisphere, which includes the Arctic Ocean and the Hudson Bay. 
Data background:
Sea ice data was accessed from the NOAA National Climatic Data Center for the northern hemisphere, https://www.ncdc.noaa.gov/snow-and-ice/extent/ ; With the data pulled from here: https://www.ncdc.noaa.gov/snow-and-ice/extent/sea-ice/N/0.csv.  The data are plotted in units of million square km.